There are few places in the world where workers are sought after more than in Alberta, but, even here, there
is sought after, and then there is sought after. Because, when it comes to good work finding you, it's
also a question of how old you are, where in the province you work, and what skills you bring.
Unemployment in youth (that is, those between ages 15 and 24) typically rises faster than in the rest of the
population during a slowdown, and also takes longer to come down. Why? It's the age-old story we're seeing
again in the current business cycle: older workers, with their experience, tend to be more productive. As of
September, youth unemployment stood at 10 per cent, more than double the 4.6 per cent provincial average.
Geography plays a role, too. Alberta is roughly split up into six economic regions. Currently, the lowest three-month moving average unemployment rate, at 2.8 per cent, belongs to Banff-Jasper-Rocky Mountain House. Surprisingly, the region with the highest unemployment rate is Calgary, at 5.1 per cent.
And industry matters. Over the year, the oil and gas sector has led the way, adding nearly 25,000 workers. At the other end of the equation, the wholesale and retail trades have shed 12,000 workers. If you're in the first group, that's good news, given how much oil and gas wages ($1,986/week) are above the provincial average
($1,082/week).
Alberta Employment Change by Industry, Sept 2012 over Sept 2011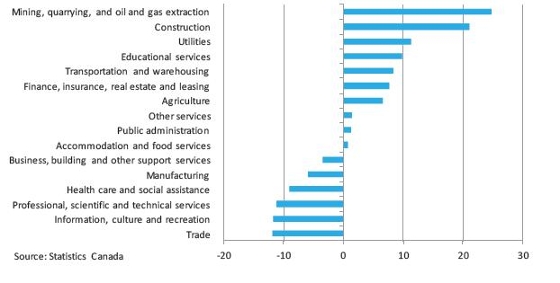 Source: http://www.industrymailout.com/Industry/Home/4706/17195/link398069/Daily%20Economic%20Comment%2010-OCT-2012.gk.pdf