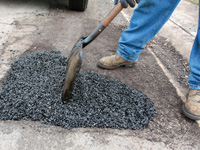 Last winter's freezes and thaws have heaved driveways more than usual. Repairing potholes is an inexpensive one day DIY project that can extend the life of your driveway by sealing out rainwater to prevent the asphalt from disintegrating further. Canada's Tool Girl Mag Ruffman provides 6 easy steps for how to repair potholes using materials from Lowe's Home Improvement.
All you need is a bag of asphalt patching compound (also known as bitumen), which is the same stuff that road repair crews use, except it's not heated. Choose a warm day and leave the bag in the sun to warm up so the bitumen is more malleable.
Start by prepping the pothole, using a shovel or trowel to remove loose gravel and debris. You may have to keep removing loose material until you get down to the layer of compacted limestone gravel that forms the foundation of the driveway. Break off and remove any loose chunks around the rim of the pothole too.
Next, use a broom or whisk to thoroughly rid the cavity of dust particles. Then, using a hose with the nozzle set on 'mist', dampen the interior surface of the pothole to wet down any remaining dust. This will ensure better adhesion when you add the patching compound.
Now dump enough bitumen into the pothole to slightly overfill the cavity. If the patching compound is stiff and chunky, you can soften it with a hair dryer or heat gun.
Use a length of 4" x 4" lumber to tamp the loose asphalt into the pothole, paying special attention to the edges of the patch; the more tightly compacted they are, the less likely they are to break down under the usual driveway wear and tear.
You may need to add more bitumen as you tamp to make sure the patch is level with the surrounding driveway surface.
After the patch is done, sweep some dust over the top of it to prevent it from sticking to tires or shoes while it cures. You can also drive over it a couple of times to make sure it's well-compressed.
For tips on how to complete other home DIY projects, visit and shop online at www.lowes.ca.
www.newscanada.com